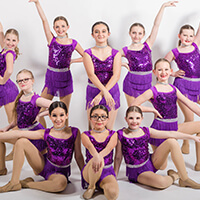 Jazz
Dancers will learn proper jazz techniques regarding correct body placement, rhythmic exercises, jumps, turns, kicks, floor work and transitional steps. In addition, there is a portion of the class dedicated to conditioning the body with strength exercises and proper stretching techniques. Dancers can expect to dance to quick tempo music and for the choreography to be full of dramatic accents and fun!
Ballet
The backbone of a dancers movement vocabulary. The importance of ballet training to a dancer is unparalleled. Studying ballet develops strength, poise, control, grace, discipline and coordination, and those are just a few of the benefits. Dancers will learn proper alignment and positions, turn out (outward rotation of the legs), posture, ballet terminology and movement vocabulary. Each class begins at the ballet barre, progresses to the center, travels across the floor and finishes with a reverence. Ballet class is filled with beautiful music with a variety of tempos, from slow and controlled to quick and light. Students will learn both original choreography and classical variations.
Tap
If ballet is the backbone of dance then tap is the heartbeat. This class is all about rhythms and happy feet. Dancers will learn a variety of ways to articulate their feet in order to make many different percussive sounds and will be exposed to Broadway and rhythm styles of tap. (For Broadway think Fred Astaire or Gene Kelly, and for rhythm think Gregory Hines or Savion Glover).
Hip Hop
Hip Hop is a form of street dance full of energy, spunk, personality and individuality. Dancers will learn how to isolate various parts of their bodies and are expected to make their movements strong and precise. Hip hop will include a variety of styles such as popping, locking, breaking and house dance. Choreography is performed to positive upbeat music.
Modern/Contemporary
Modern dance was formed as a rebellious response to the constraints of Classical Ballet. Modern dance pioneers focused on creative expression rather than technical virtuosity. However, today's standards of modern dance require a performer to be artist, athlete and technician. This class will touch on a variety of modern dance concepts such as: suspension, release, weight sharing, upside down movements and a variety of movement qualities. Dancers can expect originality and creativity with the choreography and a vast array of musical styles.
Lyrical
Lyrical dance draws heavily on ballet and jazz techniques with a bit of gesture added in for dramatic emphasis. The choreography reflects the lyrics of the song and conveys strong emotions. There should be a continuation of movement to create a sense of flow and grace, along with a peppering of sharper or shorter movements to add accents. A variety of music can be used from ballads to rock, alternative to spiritual. This is a great class for dancers to express themselves.
Introduction of Dance
Intro to dance is for 3-5 year olds who love to move. Students are introduced to simplified versions of tap, ballet & tumbling. Emphasis is placed on building major motor skills, and basic concepts of taking a class like, taking turns and listening.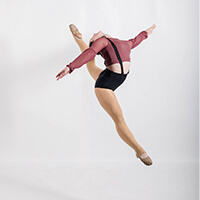 Technique Classes
We believe in the value of performance balanced with technique focus. We offer various specified technique classes including leaps and turns, acrobatic arts, and strengthening classes to help your dancer grow in those specific techniques.
Acro dance class focuses on strength, flexibility, limbering, tumbling and balancing.  Acro dance differs slightly from gymnastic floor skills as it focuses more on smooth transitions in and out of skills and into dance moves.
Class Placement
Each year returning students are assessed with the use of skill charts and teacher assessments.  All students have access to our skill charts through the parent portal.  In addition to the skill chart, video examples of each exercise or skill are demonstrated within the portal. We have 2 divisions of classes.  Our primary division which includes Intro to Dance, Pre-Ballet, Tap/Jazz and Tiny Hip Hop and our leveled classes, Level 1- 6.  New students with dance experience should call or email to set up a placement audition to find out which level would be best for your child.  New students without experience should call for help and one of our knowledgeable staff can help you find a class that best suits your child's needs.
We welcome anyone to come view our classes at our studio. Our lobby is open weekdays in the evenings and we would be happy to assist you with any questions you have. Message us today!
226806 Harrier Ave
Wausau, WI 54401